Want an instant, glamorous, and damage-free hair transformation? The only thing that keeps most people from immediately saying "yes" is price. But for every customer who complains that hair extensions are too expensive, we meet about three more who are looking for a solution to fix the damage or dissatisfaction they had as a result of purchasing cheap extensions.
We won't name names, (to quote Destiny's Child… we're not going to diss anyone on the Internet, because our mamas taught us better than that), but there are plenty of places on the Internet where you may think you're saving money by purchasing cheap extensions, when in reality, you will spend much more replacing them and fixing your hair afterwards!
Check out these before and after photos stylist Sue Natale recently sent us.
Her client came with a head full of sticky residue and matted extensions, and left with long, glossy Glam Seamless hair!
If the photos aren't enough to convince you to stay away from bad extensions for the rest of your life, here are seven reasons why Glam Seamless extensions are so worth the investment.
1. Glam Seamless Extensions are Made With 100% Human Hair
The factor that undoubtedly that has the most significant influence on the price of extensions is the quality of the hair. Glam Seamless uses 100% Human Hair in all extensions, which is majorly important for many reasons.
All of the hair used in Glam Seamless extensions is hand picked and ethically sourced. This means you can rest assured knowing that you're investing in a product that is fairly traded, and doesn't leave you guessing where the hair you're going to wear on your head everyday for a year even came from. Human hair extensions also blend the most seamlessly and can be styled and washed as if they are your own.
2. We Know the Secret to Full, Thick Hair
What's the point of investing in hair extensions if they're not full, thick and luxurious? We understand that you want a gorgeous look, so we've taken the necessary steps to create a product that is truly glamorous.
Glam Seamless Hair Extensions are fully double drawn, which results in a full look from root to tip. This is a process in which the shorter hairs are removed by hand, so you're not left with short, scraggly pieces up top and thin, sparse ends.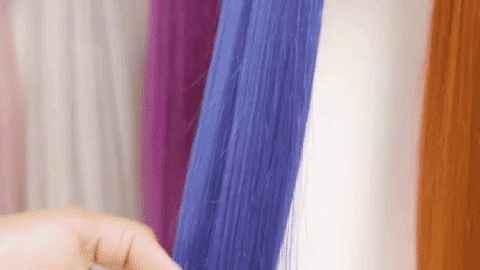 Generally, cheaper extensions are made with single drawn hair to cut costs. This process is typically done by machine, and commonly involves cutting the ends rather than delicately removing short strands that cheapen the overall look of the extensions.
We've also utilized innovative Anti-Shedding Technology to keep all of those precious long hairs in place to increase the longevity of your extensions. The ends are also pre-cut and blended, which creates an installation that requires minimal trimming and allows you to wear as much hair as possible.
3. Our Color Range is Unbeatable
A flawless color match is one of the most important aspects in making your hair extensions undetectable. We offer a wide range of multi-tonal shades that will easily blend with your natural color. We also offer a variety of color treatments, including rooted, ombre and highlighted!
Our slow and gentle eco-friendly color process allows you to choose from hundreds of color options without having to sacrifice quality. Our brightest blondes will appear glossy and nourished, and our darkest Jet Black will last without fading. Our color treatments are flawlessly executed, so your ombre hair will appear expertly executed instead of hastily dip-dyed!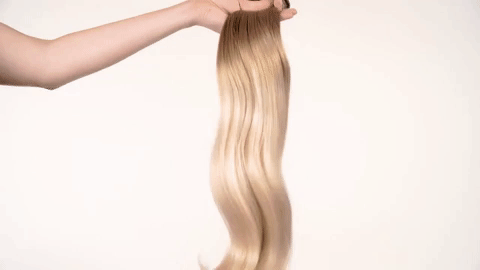 Our color range also allows you to add beautiful color to your hair without damage. If there's a level of blonde you've always wanted to reach, or you'd like to try fun, vibrant colors, Glam Seamless Extensions give you the freedom to do so without frying your own ends. And although we've got plenty of shades to choose from, our color processes are gentle enough to preserve the integrity of the hair to allow for some color experimentation! If you'd like to have a professional apply custom shades to your Glam Seamless Extensions, they can use demi or semi products to deposit color. (However, please note that our extensions should not be lightened. Our lightest blondes are pretty bright, so we're sure you'll find that you won't need to, anyway!)
4. We Have Complete Control of Our Quality
The Glam Seamless Team is extremely hands on and does everything possible to ensure high quality hair extensions. We own our manufacturing facilities, which gives us the freedom to control quality. We take pride in our product because our team is filled with women who understand the confidence that a Glam Seamless transformation can create! We genuinely stand behind every product, which means keeping a close eye on all manufacturing processes and staying true to our word.
While it may be more cost-effective to simply have someone else take the reins, we are far too passionate about hair extensions to ever pass full control to a third party. We'll always provide you with ethically sourced, eco-friendly, high end products. And if something does happen to slip through the cracks, our Support Team is highly responsive and dedicated to quality control. We take your feedback seriously, and are always striving to improve.
5. We Are Constantly Innovating Our Products
Speaking of feedback, Glam Seamless products are rapidly innovating. For example, our Tape-In Extension Installation used to require the use of hot tools. We wanted to make sure we were selling a product that is truly damage-free, so we innovated the tape adhesive used in our extensions to be stronger than ever before. Our Tape-Ins can now be installed without the use of heat or chemicals.
We are proud to offer a range of cutting-edge products, and will never stop looking for ways to step our game up! Whether we're strengthening tape adhesive, making our Clip-Ins lighter, or revamping our colors, Glam Seamless is constantly advancing.
6. We Offer Consultations -- Wherever You Are!
One of the major drawbacks of purchasing cheap hair extensions--especially online-- is that there's far too much guesswork. Besides the fact that you'll likely have no idea what you're truly getting, it's extremely difficult to color match your hair, or to know how much to order.
If you're local to the New York Metropolitan Area, you can visit one of our very own Glam Rooms! We have teams of stylists in both Hoboken and SoHo, and are happy to assist you and provide a range of services at either location.
If you're a little further away, there's no need to worry. Glam Seamless is an established brand that is loved and respected by stylists everywhere! This has given us the ability to develop a robust salon network of Glam Certified Stylists all over the world. Whether you're in California or Connecticut, you can find a stylist near you that can provide you with expert consultations, installations, and maintenance appointments.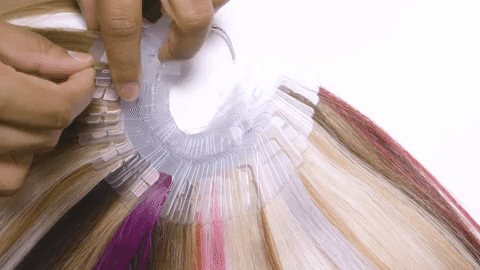 If you're looking to purchase one of our DIY options to install the hair yourself, there are still plenty of options for finding the perfect product. From borrowing our Color Ring to receiving a sample weft, we'll do everything in our power to make sure you can achieve your dream hair. These are services you simply will not find when ordering hair from Etsy, Ebay, or a random company overseas.
7. We Offer Payment Plans
While we are confident that we offer the best hair extensions on the market, we also hold the firm belief that high quality beauty should be accessible for everyone. Our tagline is "Make Every Day Glamorous," and Glam Seamless was founded with the mission to do that for all women. Our products may be pricier than the cheap, synthetic extensions you'll find in the depths of the internet, but they are competitively priced for the quality you will receive.
We've partnered with Sezzle to develop an interest-free payment plan for all of our products. Simply select the Sezzle option when checking out. You'll be prompted to pay the Sezzle purchase cost, and your order will ship out just as it would if you were to pay the full amount upfront. You'll be charged in equal installments every two weeks.
Have more questions about Glam Seamless Hair Extensions? Our Support Team consists of experts who would love to chat with you! (No, really. They're hairstylists. They actually love to chat!) You can reach Support at (888) 401-6161 or support@glamseamless.com